Introduction
Too much free time will make people do the weirdest things. I've always had a soft spot for obsolete computers, especially when they once cost a small fortune and were the absolute top-of-line in their hey-day but are now hopelessly out-dated. It seems unfair that after only a short time of hard work the reward for their loyalty is to bring them to the junkyard.

When we move away from the boring, low-cost world of ugly WinTel PC's and look at the high-end of the computer market we come across a little computer company called Silicon Graphics Inc. Best know for their powerful workstations like the ever-so-cool Indy, they're the kind of people who don't jerk around when it comes to building a good looking machine. If you look up "Server" in SGI's dictionary it probably says:

Server (n.),
1. Large, extremely expensive machine that goes "Ping!". Measuring at least 25 cubic feet, heavy, bulky and giving of more heat then a nuclear power plant. It's big, it's bad, it's beautiful and makes it pretty clear what happened to this year's IT-budget.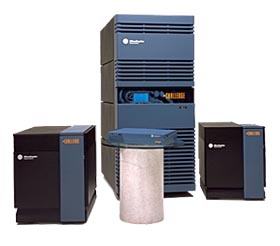 SGI's Challenge-series. The small, flat one is
not an Indy but a Challenge S.